Vinh B. Tran, M.D., F.A.A.O.S.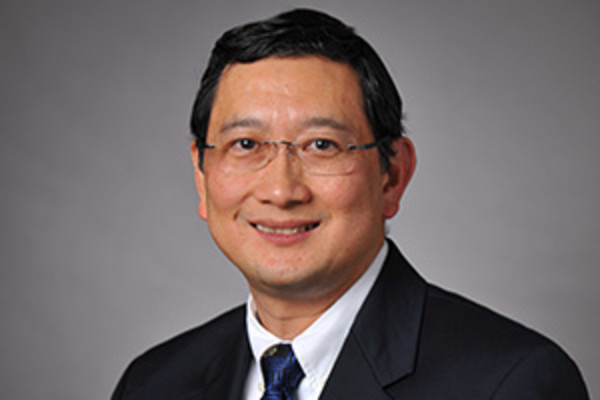 Biography
Dr. Vinh B. Tran is a Board Certified Orthopaedic Surgeon by the American Board of Orthopaedic Surgery and the National Board of Medical Examiners. He practices as a general Orthopaedic Surgeon specializing in lower extremity reconstruction, robotic partial and total knee and hip replacement Makoplasty, total joint replacement with Minimally Invasive Hip & Knee Surgery (MIS) and Computer- Assisted Navigational Surgery (CANS), sport injuries, arthroscopic surgery, ACL reconstruction and foot & ankle reconstruction surgery, with ankle replacement/ fusion/ bunion/ hammer toe correction.

Dr. Tran was the first Orthopaedic Surgeon to perform total ankle replacement in 3 different states: St. Lukes Hospital in Allentown, Pennsylvania (1999); North Arundel Hospital in Glen Burnie, Maryland (2001); INOVA Fair Oaks Hospital in Northern Virginia (2005). He currently maintains hospital privileges at 2 Virginia hospitals and 1 Maryland surgical center: INOVA Fair Oaks Hospital, Fairfax Hospital, and Advanced Surgery Center of Bethesda. Dr. Tran recently received the honor of being selected as "America's Top Orthopaedists in 11 consecutive years (2009-2019)" by Consumers Research Council of America. He also is recognized by Northern Virginia Magazine as among the Top Doctors 2018, 2019 and 2020.

Dr. Tran has undergone extensive training and remains at the leading edge of his field. He is a graduate of Georgetown University School of Medicine in Washington, D.C., where he was awarded the Department of Orthopaedic Surgery Award for outstanding academic performance. He completed his residency in General Surgery and Orthopaedic Surgery at the University of Maryland Medical System and R. Adams Cowley Shock Trauma Center in Baltimore. He then went on to serve as Chief Residency in Orthopaedic Traumatology at Shock Trauma in Baltimore. Dr. Tran dedicated an additional year fellowship in Foot and Ankle/ Lower Extremity Reconstruction Surgery - Total Joint Implant at the University of Maryland Medical System. He is an active member of several professional organizations, including the American Academy of Orthopaedic Surgery (AAOS), the American Association of Hip and knee Surgeons ( AAHKS), the American Orthopaedic Foot & Ankle Society (AOFAS), International Congress for Joint Reconstruction (ICJR), Medical Society of Virginia (MSV), Georgetown Clinical Society, and Vietnamese Medical Society of North America.
Areas Of Expertise
Lower Extremity Reconstructive Surgery
Foot & Ankle Surgery
Robotic Partial and Total Knee Replacement (MAKOplasty)
Minimally Invasive Surgery and Computer Assisted Navigational Surgery (CANS)
Total Joint Replacement
Arthroscopic Surgery of the Knee and Shoulder
ACL Reconstruction
Specialties
General Orthopaedic Surgery
Total Joint Replacement MAKOPLASTY
Foot and Ankle Surgery
Sports Medicine
Medical Degree
Georgetown University School of Medicine; Washington, D.C.
Residency
University of Maryland Medical System; Baltimore, MD
Chief Resident in Orthopaedic Traumatology at the R. Adams Cowley Shock Trauma Center
Fellowship
Lower Extremity Reconstructive Surgery; University of Maryland Medical System; Baltimore, MD
Foot & Ankle; University of Maryland Medical System; Baltimore, MD
Certifications
Diplomate of the American Board of Orthopaedic Surgeons (recertified until 2022)
Diplomate of the National Board of Medical Examiners
Professional Associations
American Academy of Orthopaedic Surgery (AAOS)
American Association of Hip and knee Surgeons ( AAHKS)
American Orthopaedic Foot and Ankle Society (AOFAS)
International Congress for Joint Reconstruction (ICJR)
Medical Society of Virginia
Georgetown Clinical Society
Vietnamese Medical Society
Major Accomplishments
America's Top Orthopedist, 11 consecutive years (2009-2019) by Consumer's Research Council of America
Northern Virginia Magazine Top Doctors 2018, 2019 and 2020 by the Peer-and Panel-Selected List of NoVA's Top Doctors
Graduated with the Department of Orthopaedic Surgery Award for outstanding academic performance at Georgetown University
First Orthopaedic Surgeon to perform total ankle replacement in 3 different states (VA, MD, PA)
Hospital Affiliations
Inova Fair Oaks Hospital
Inova Fairfax Hospital
Affiliated Surgery Centers
Advanced Surgery Center of Bethesda